Setting up a Podcast - Part I: Domain Name
Before You Start
You will need a Name for your podcast, of course. Search on iTunes to make sure the name doesn't already exist.
Next create some image art for the show. Good artwork is colorful and eyecatching. Any text should be large enough to read, even if it is scaled-down very small such as in the iTunes menus. Specifically you will need:
A 960x540 JPG or PNG image for the website.
A 1400x1400 JPG or PNG image for iTunes.
(OPTIONAL) A 1500x400 JPG or PNG image for a banner ad.
(OPTIONAL) A tiny 16x16 JPG or PNG image for the favicon (the tiny logo in the top corner of the browser).
You can also add a 640x720 JPG or PNG headshot of each of the podcasters.
Then when you are ready, register your Domain Name...
Setting Up Your Domain Name
1) You can use GoDaddy.com, 1and1.com, Register.com, or any domain name registration to purchase your domain name, e.g. "BestPodcast.com". Do not buy hosting, email or storage, just register your domain.
2) After you register you will have the option to enter DNS Nameserver info. Look for something that says "Manage DNS" or "Custom Nameservers". You should be able to enter up to 3 nameserver addresses. The three nameservers you need to enter are:
ns1.digitalocean.com
ns2.digitalocean.com
ns3.digitalocean.com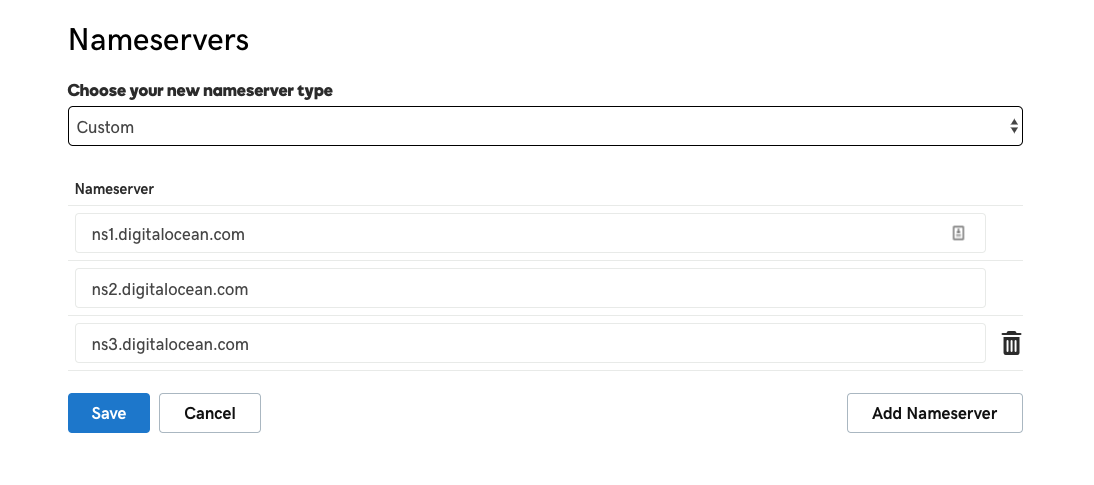 3) For the final step I will have to set it up locally on the server. You should email me to set this up. You need to let me know what your domain name is, i.e. "BestPodcast.com" and also tell me your email address that you want all mail for this domain to go to.
For instance if you give me your email "mygmail@gmail.com" then emails to "info@BestPodcast.com" or "me@BestPodcast.com" or "anything@BestPodcast.com" will automatically forward to your gmail account. After this is working you can go back and change the email for your Bio and Show Page to be a branded email such as "contact@BestPodcast.com".
It may take a day or so for the changes to take effect, but after it is working when you go to your domain in any browser it will show your podcast page. You can continue setting up your Bio and Show Page while the Domain Name takes effect.